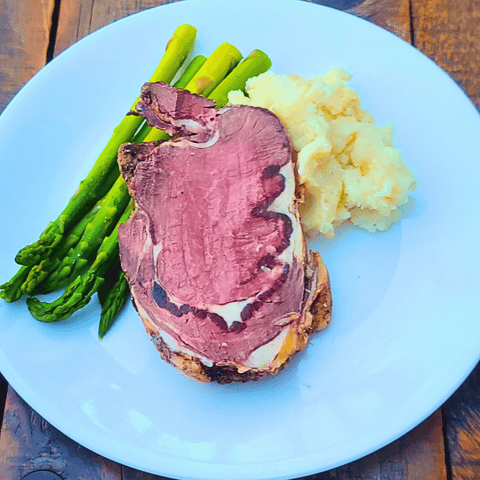 Buffalo Prime Rib Roast
There is a reason they call it Prime! This feast-worthy roast is sure to impress your guests. Deeply marbled and richly flavored, prime rib roast is a show-stopper on the table for holidays and special occasions.
What's the most spectacular cut for a full house? Buffalo Prime Rib Roast, of course. The ultimate for the holidays or special occasions. Our boneless buffalo prime rib is a deeply marbled and flavorful roast. Best slow-roasted and seared to finish, cooked to a perfect medium rare.  We include printed cooking instructions in your order.

Our Buffalo Rib Roasts come in 3 standard sizes.  We recommend 1/2 lb per person when calculating how big of a roast you'll need.
Small (3-4 lb), serves 6-8 people

Medium (5-6 lb), serves 10-12 people

Large (7-8 lb), serves 14-16 people
Click below for cooking instructions and recipe inspiration:
Reverse Seared Prime Rib Roast
Take it from the many five-star reviews—this prime rib roast will be the best cut of meat your guests have ever had and "worth every penny"…