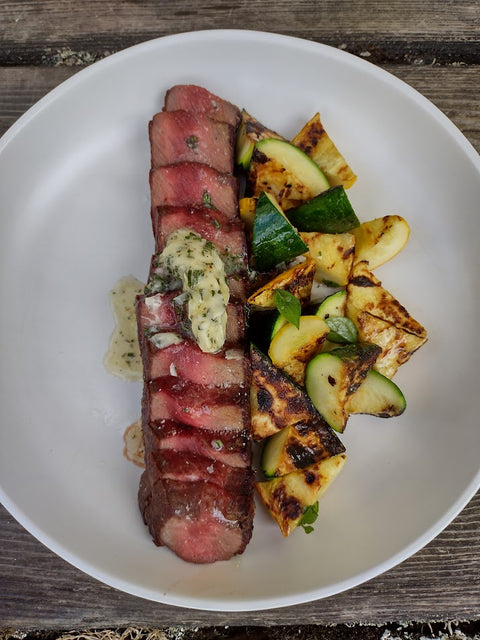 Buffalo New York Strips
This steak is the classic choice of America's top steak houses. New York Steak Strips are especially tender because they are cut from the loin. Lean and flavorful, perfect for a cast iron sear! You will enjoy juicy, thick steaks that melt in your mouth.
When only a classic steak will do, we recommend this cut in the classic big city style.

Symmetrically cut in 8 or 10oz each, these beautiful strips answer for the occasion when you want the ultimate Jackson Hole steakhouse specialty at home.

New York Strip Steaks are legendary for at least three reasons.

1. Marbling: Bison is a lean animal (as you can see from the pics), but the strip steak has a fat cap running in parallel to the muscle. As the steak cooks, this fat sears and melts, leading to a rich, juicy, and flavorful steak.

2. Tenderness: NY Strip Steaks are a cut of bison from the short loin—a muscle that does little work.
It's well suited to fast cooking under hot temps. (We recommend charcoal or cast iron.)

3. Distinct Flavor: The Buffalo NY Strip Steak has a concentrated, deep flavor that delivers all the umami your palette needs. (For reference, it's less mild than filet mignon but not as potent as a ribeye.)

There are three objective reasons to love a Buffalo NY Strip Steak… But what do customers say?

See for yourself in our reviews below.
     
Packaged individually in 8oz or 10oz portions. 
Check out our blog for a simple marinade recipe you may try for Buffalo New York Strips.
Or try our Grilled Buffalo or Elk Steak with a choice of two Salsas.


You can also pan-fry the NY strip steaks.