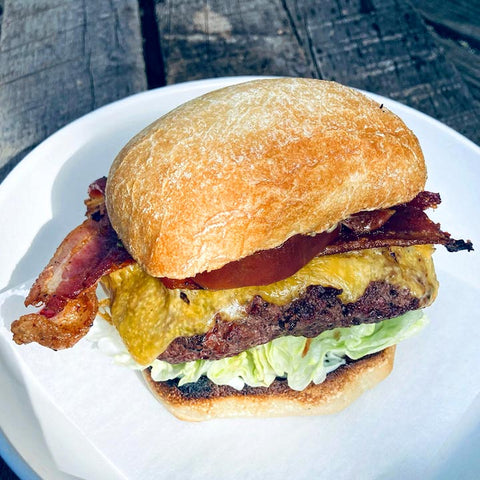 Buffalo Burger
To taste is to believe. These burgers surprise people. Even skeptics are converted by the taste. There is nothing better or more versatile than Buffalo Burger. They're absolutely mild. Delicately sweet. Never fatty, and deliciously lean.
Bison are wild and powerful creatures. A vision of health and strength that comes through in the meat. These patties are practically pure protein, so use a delicate hand with the heat—and enjoy what may be the most delicious burger you've ever tasted.
In fact, according to many of our customers, it's the best burger they've ever had. Try them for yourself. Love it or we'll give you a refund or a replacement. 
         
Each individual bag weighs 1 Lb. You can choose from house-made patties (3 patties per pound) or ground "bulk" bags (unformed), in quantities of 2, 5 or 10. Using approximately 85-90% lean trim of only 100% North American Bison, we grind our in-house Buffalo Burger nearly every day to ensure you get only the freshest, highest quality product. Please note we have a $50 minimum order value to ship frozen goods.
Recipes:
The possibilities are endless. Just take a look at some of the recipes and techniques we've come up with:
Buffalo Meatballs with Mozzarella
Buffalo Smash Burger with Pimento and Onion 
Buffalo & Wild Boar Meatloaf with Smoky Ketchup Glaze 
Buffalo Meatloaf with Spinach and Baby Roasted Potatoes